If you take care of your family health, you have to keep in mind a lot of information: each family member conditions history, treatments, medications, allergies, contraindications, immunizations, etc. When you come to doctor with your child or grandparent - you have to remember all this information, and not always you can do it well. In result, the doctor is not able to define the best treatment.


If you have a big family (several children, other relatives and even pets that also need your care) - you may be constantly stressed and can't keep the situation under control, because you do not have structured information about the health of your loved-ones.

That's why it's very important to record information about the health of your family members. You probably already heard the term Personal Health Records (or PHR). This is a new class of applications designed specifically for management of medical records. You can certainly keep these records on paper, but it's not convenient and efficient. Finally you probably have a computer at home, and keeping your family medical records - is probably its most useful function.
How to choose Family Health organizer?
How to choose a PHR app? There are a lot of online services that offer you to keep your health records in the Internet, such as Microsoft HealthVault. Storing medical data in the cloud is really useful if it's possible to share them with your doctor. However, at the same time, it's pretty dangerous, because your private health data can be accessed by other people. It's better when all your private data is stored on your computer and you can send it to the doctor by email when it's necessary.

Also, in recent years mobile health apps for smartphones have become very popular. This option is convenient because the family health information is always in your pocket. However, there are a few drawbacks also. The first - is (again) the lack of security. If you suddenly lose your smartphone - all valuable health information will also be lost. The second drawback - bad support for medical files, that are the considerable part of everyone's medical records. For example, you might want to store a lot of scanned recipes, doctor statements and opening them on your phone - is a challenge.

On the other hand, our family health records software - GooPatient - doen't have these drawbacks. It's a desktop software, which is absolutely safe, because it stores your family data on your home computer. You can set a password so that nobody except you could access this information. Additionally, you can make a backup of the database and save it to the flash drive in order to protect your data in case of the computer glitch.

Goopatient also includes the mobile (Android) app that can be synced with desktop version via USB or cloud services. So you can take your family medical data to your doctor's office or when you travel.
How to manage family health in GooPatient?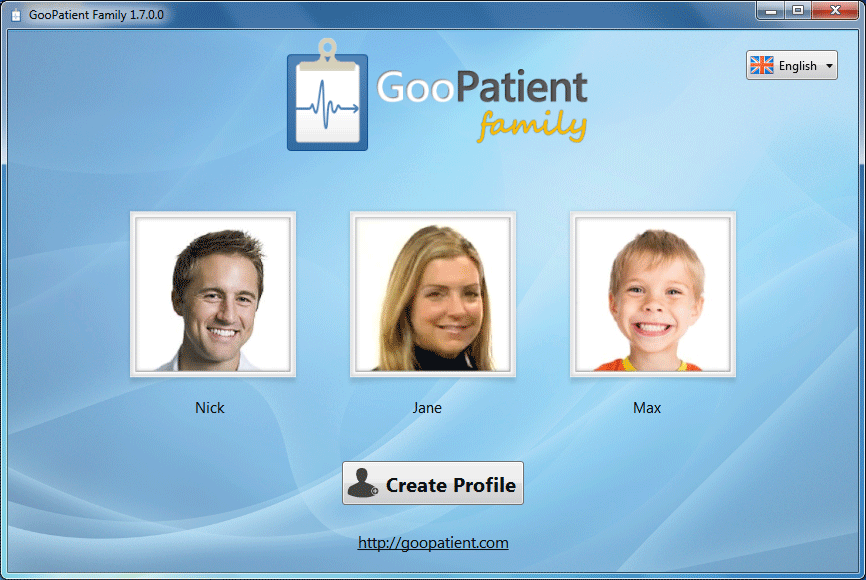 In GooPatient you can create health profiles for yourself and for each family member. Each profile contains a medical card with basic information about the person health (conditions, medications, medical procedures, allergies, vaccinations) and health journal, where you can put down notes about person's health day by day (problems, symptoms, taken medications, procedures, lab test results, measurements such as blood pressure, temperature, calories consumed, etc.)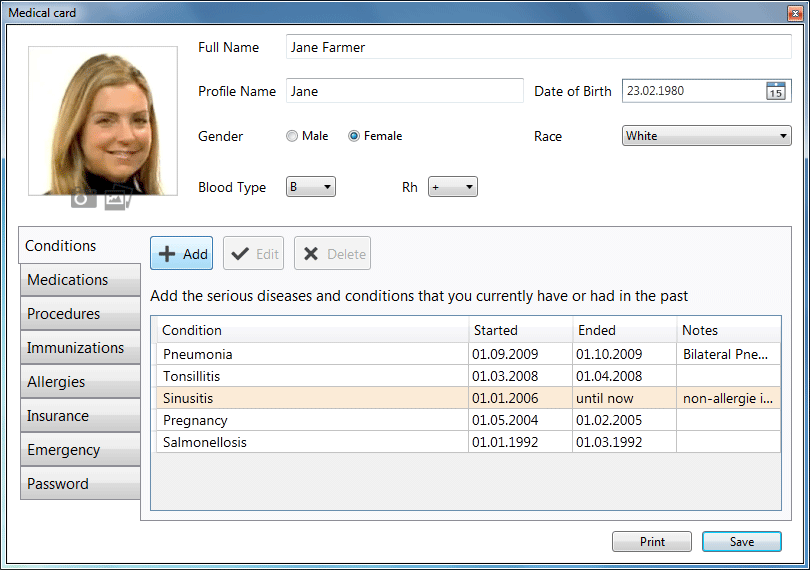 Family Member Medical Card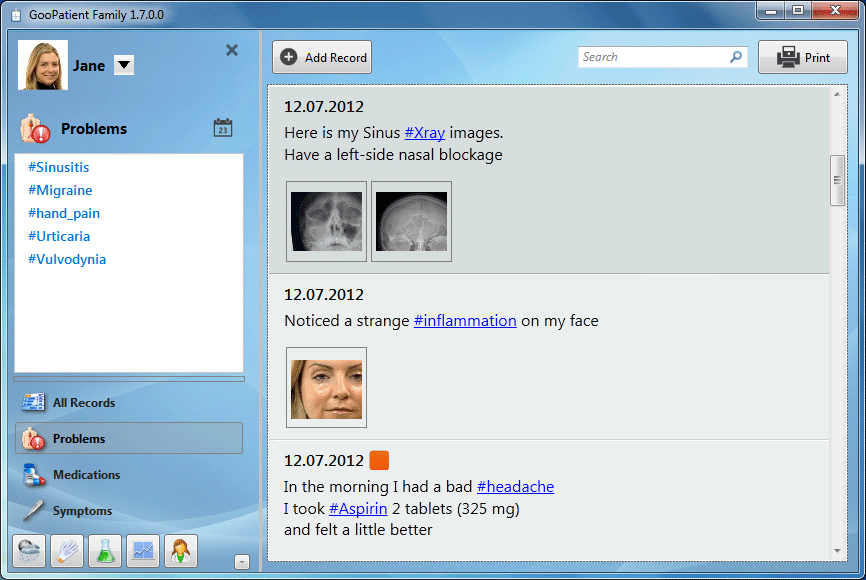 Family Health Journal
Printable Emergency Card

GooPatient also allows you to print Emergency Card for those your relatives who need it - children and the elders, who have chronic illnesses or allergies. This Emergency card can save the life of your loved ones. In addition to important medical information the card contains your phone (emergency contact), so you'll got a call, if a critical situation happens.

In addition, using GooPatient you can easily monitor the health insurance plans and your health expenses. Having a list of all insurance policies, you will never forget about their renewal and coverage. And having recorded all your spending for healthcare - you can see exactly how much money spent on healthcare, and how to save on it.