How to print Emergency card?
What is Emergency card?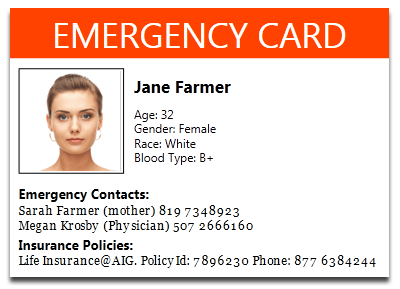 Emergency card (ICE card) - is a wallet-sized card that contains critical information about your health and other information that may be needed in critical situations. Typically, Emergency card contains the following sections:

- Name, photo, age, contact info, blood type
- Serious conditions that you have or had in the past
- Serious medical procedures that you passed through
- Medications that you currently take
- Allergies and other contraindications that you have
- Vaccinations that you made
- Information about your insurance policies and insurance company contacts
- Emergency contacts, that should be called if something happens to you

Anybody can get into accident and this emergency card may save your life. Of course, there are general rules of providing first aid, but having your emergency medical data, doctor will quickly understand what happened to you and how to start treatment. This is especially actual for people with allergies, chronic diseases (like diabetes) or specific conditions (like pregnancy), elderly people with memory problems.

In addition, emergency card is required for people who travel to other cities and countries, children and students that spend a lot of time away from their parents, motorcycle riders & participants of other risky activities.

Emergency card - is the most simple and very useful way to improve your chances to survive in critical situations. So if you haven't already done it, create your personal emergency card, put it in your wallet and carry it with you wherever you go!
How to create Emergency card?
You can manually draw the Emergency Card in Word or graphical editor and print it. As an example you can take one of the Emergency Card templates. You can also download the Printable Emergency Card template for Word and input your data to it. However, this option is quite time consuming and requires good computer knowledge and design skills.

The second option - is to use one of the online services that offer to create printable Emergency medical card after you sumbit a form with your data. However, in such services the emergency card design leaves much to be desired. And most importantly, they do not store your data, and if you start taking a new medication, or change doctor and contact information, or receive a new vaccination, etc - you have to enter all the data again. Of course, if such services store your data - it would be even worse, because nobody wants his private health information to become available to anyone else.

The third option - is to install one of the mobile emergency apps on your smartphone. These applications store electronic Emergency card on your phone. This is a pretty attractive solution for tech-savvy people. However, ambulance doctors and rescuers - are not always tech-savvy people as well. And it's not very wise to make your life and health depended on the technical skills of physicians or the smartphone battery.

And finally, the fourth option - is the most appropriate - to use a desktop program like GooPatient for printing Emergency card.
How to print Emergency card in GooPatient?
In GooPatient you keep personal electronic medical record, which contains your primary health-related information. It is stored on your computer and can be protected with a password. Using this data, you can always print your Emergency card. You can also update your data or enter new information at any time.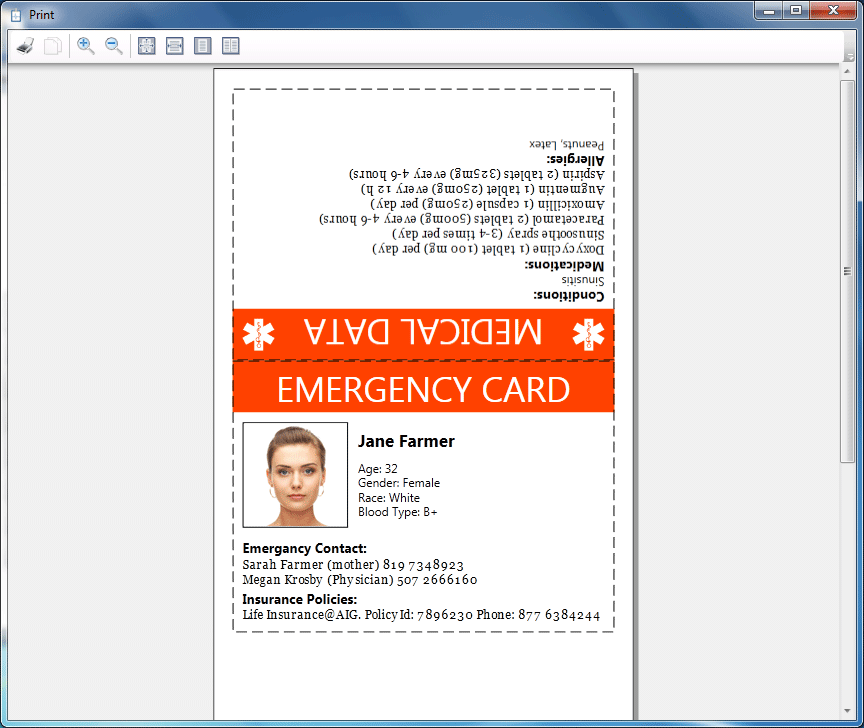 GooPatient provides a beautiful and simple Emergency card template. It's two-sided and one of the sides is located upside down, so after printing you just need to cut along the border, fold the card in half and laminate it. It's recommended to print the emergency card on a color printer so that your photo was more clear and the band with the words EMERGENCY CARD was red. This is actually the standard for Emergency cards, because it attracts attention to the card. If you do not have a color printer, you can save the card to PDF, copy it to flash drive and go find the color printer.

In addition to the Emergency card in GooPatient, you can print your Health Profile using the same data. It's an A4 sheet, which you can take with you to the doctor. You won't give your doctor the Emergency Card at a regular visit, aren't you? In addition, GooPatient allows to keep a Health Journal and record everything that happens with your health day by day.

Finally, in GooPatient you can create Emergency Card not only for yourself but also for every family member. After all, the life and health of your loved-ones is perhaps very important for you as well as your own.