Health diary app for Android
Android - is the most popular mobile platform for smartphones and tablets. And nowadays smartphones and tablets have become the control panel for personal health management. In recent years, a host of mobile health and fitness apps apeared. All health data from gadgets and medical sensors is collected by phones. As well as health data that person enters manually.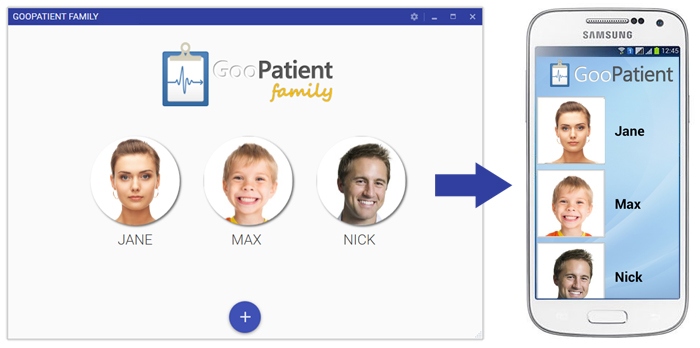 However, while Android-phone - is a handy device for adding and accessing medical records, it's not a very safe place to store (backup) them. After all, you can lose your phone or forget it somewhere. And thus you can lose your medical information and even worst - someone else can get access to your medical secrets.

Therefore, Goopatient uses hibryd desktop-mobile approach. You can add and access your medical records on Android device, but the central repository for your health data - is your home computer. From time to time you can sync computer and phone. With this approach, even if you lose your phone, all your medical data stay safe in your computer and you can transfer them to your new phone. In addition, either in the computer or in the smartphone your medical card and health journal are password protected, so noone except you can access them.


Here are the most popular use cases of the mobile Goopatient version

Electronic medical card for Android
When you come to doctor, you have to answer a lot of questions about your health and answer as precisely as possible. Because of this the correct diagnosis and treatment strategy will depend. Keeping everything in your brain - is impossible. Taking the paper medical documents - is uncomfortable. But if you have all your medical data (from blood type to diseases history) in your phone, you will become the doctor's best client.

Child Health Diary for Android
If you have children - you probably carefully track the health of your kids. The best way to control child health and improve your parental skills - is to keep child health diary. And using a smartphone or tablet, you can do it at home and on the road, and when you visit a clinic or hospital. The diary can help you to record symptoms, test results, taken medication, vaccinations, pediatrician visits.

Food diary and weight loss tracker for Android
Food Diary - is the key tool to determine the cause of excess weight, to evaluate your diet objectively, bring it to norm and to form good habits. Keeping a journal allows you to control the weight loss process from beginning to end. You can create your own training plan and keep track of all the exercises and . With the diary you can keep track of physical activities. In addition, you will learn how many calories burned during a workout and will be able to keep track of weight loss progress.

Blood pressure diary for Android
Keeping a diary pressure measurement is necessary before the cardiologist visit. The doctor will ask you about the morning and evening blood pressure, about the highest and the lowest pressure and heart rate, that you recorded in recent weeks. To provide correct information to the cardiologist so that he could define the correct diagnosis and therapy, it is necessary to keep a blood pressure diary.

Blood sugar diary for Android
People with diabetics have to track blood glucose level daily. Keeping diabetics diary with blood-sugar records allows to understand better what meals and activities lead to deviations from the normal sugar level.

Women's menstrual cycles diary for Android
Keeping calendar menstruation cycle allows women to control the delay, the basal temperature, to predict the next date of a low and a high degree of probability of conceiving a child, keep track of lunar phases.